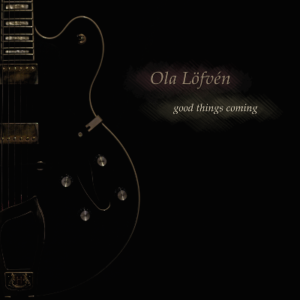 Good Things Coming, jazz album by Ola Löfvén By the time I´m writing this, my new album Good Things Coming is on it´s way to major digital streaming services. So it´s a jazz album? Yes, if you want to label it. Though, people may disagree if it´s real jazz or even which sub genre it belongs to. I think it might be easier to just call it a jazz influenced release. I´m not a copycat and I think thats apparent to everyone by now, but I can admit that certain influences steered some songs in various directions.
Orchestral parts with strings and brass can be heard in some songs, and that´s something I really love with Pat Metheny´s later works. The songs Lazy Days and Should Have Been There is probably the first signs of me really testing the dynamic range of my Hagstrom jazz guitar. Such dynamic playing is something that John Scofield is a true master of.
Is this now the path I have chosen for future releases? No. Music is the world, and even though I have my favourite places I want to explore the whole world. Will there be future releases that fits entirely in the jazz domain? I dont know, but I would surely expect so.
Good Things Coming is also my first attempt to lower the price tag, at least at CdBaby where it´s priced $6.99. Music consumers still suffer from overpriced music, a legacy from the "old days" when record companies ruled the world. And musicians now suffer from the same greed, as revenues from streaming is more an insult than income. I would like to see it all even out. Lower prices on downloads, and higher payout for streams.
Best whishes, and hope you enjoy the new album!
Ola Löfvén