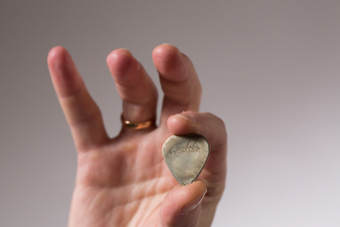 Just a little page about what I use in my home studio.
Computer
---
Windows 7 – I never got around to use a Mac. Having decent IT and IT security skills and maintaining my PC, let me have a solid and reliable workstation without problems. The key to having a stable Windows based DAW machine is to use it only for basic stuff and music and also stripping off a lot of unwanted services. I recommend to use a virtual machine like VirtualBox, so you can run a second Windows or Linux without messing with your PC. Besides DAW related software, I only run VirtualBox, Evernote and backup software on my PC. On my virtual Windows 7, I run everything else..
Sound interface: Steinberg UR22mkII. This works ok for me as I´m mainly recording either line in or with miced amp (or both).
DAW
---
Reaper 64 bit. Doesn´t really matter if you use 32 or 64 bit, and you shouldn´t confuse those bits with the ones in your sound interface. Not much to say about Reaper, it´s one tough bastard that has all capabilities you´ll ever need. Fact is, all other overpriced dinousaur brands out there look pale compared to Reaper.
Plugs
---
Instruments
Bass: Mainly Sonivox acoustic bass and Native Instruments MM bass.
Strings: Native Instruments Session Strings
Horns: Native Instruments Session Horns
Keys: Sonivox 88 and  Air Velvet and DB33
Synths: Mainly Alchemy from Camel Audio (no longer in business) and Hybrid 3, Minimogue VA, Rez synth from UgoAudio, TAL-Elek7ro and U-NO-62 fromTogu Audio
Drums: EzDrummer 2
Various VST effects and instruments (the list would be long..)
Track mix
EQ: Mainly Fabfilter Pro-Q2 and TDR Nova GE
Speaker emulator: Recabinet from KazRog, mainly to shape the bass plugins a bit. I used it for all guitar tracks on my second album, but I´m now swithing over to miced amps entierly.
Modulation/Delay: Mainly d16 Syntorus, d16 Repeater, and TB Module from ToneBooster.
Reverb: Fabfilter Pro-R and Aether from 2C-Audio are my main reverbs, but sometimes I also use TB Reverb 4 from ToneBooster.
Compressor: FabFilter Pro-C 2
MAutoAlign from Meldaproductions is a great tool to fix phase cancellation when recording with two microphones.
Various plugs, can´t mention all of them..
Master mix
EQ: FabFilter Pro-Q 2
Compression: FabFilter Pro-C 2
Limiter: TB Barricade from ToneBooster is a great brick-wall limiter.
Guitars
---
Fender American Special Telecaster: The Special Tele is well suited for both jazz and progressive rock. Everyone will not agree that jumbo frets is jazzy, but it works for me. The grease bucket thingy lets you roll off the highs with the tone control without getting a muddy sound. I tend to use the guitars volume and tone control a lot to get a variation in tone and dynamics.
The Tele is stringed with Thomastik-Infeld Power Brights .11-.46
For even greater tone variations I use either Dunlop gator grip picks (2mm) or Cymbolic brass picks. Brass picks gives me a really personal sound, with lots of clarity and control over dynamics.
Hagstrom HJ-500: A great and affordable jazz box with an amazing neck and fretboard. It give me some problems from time to time as it is extremely sensitive to temperature and humidity, but there is a certian charm to it. Pickups replaced with Gibson Classic 57's.
The Hagstrom is stringed with Thomastik-Infeld flatwound Jazz Swing .12-.50
Lodestone Pro S: An absolutely amazing guitar with a futuristic design. It´s defenitely not all looks. This is a high quality guitar with great sound and great playability. Stringed with Thomastik-Infeld Power Brights .11-.46
Richwood D-40-CE acoustic. Stringed with Thomastik Spectrum Bronze 11-52.
Amps
---
Fender Blues Junior III
Palmer PDI-09
Speaker simulator and DI box
Guitar effects
---
Blackstar HT-DIST (original Sovtek tube is replace with a  JJ tube)
Vox Wah pedal
ToneCity WildFire distortion
ElectroHarmonix Soul Food
BOSS TU-3 cromatic tuner, which also serves as a splitter to my amps, and also provides current to the other pedals (except the Blackstar). Quite a toolbox for just being a tuner..
Microphones
---
Shure BG 3
Audio Technica MB-2K
Sennheiser e906
MXL 770 condenser microphone
Superlux HI-10 condenser microphone
Midi
---
Roland A49
Guitar studio setup
---
I like to keep it small and simple. Fiddling on knobs take too much time. My setup allows me to either record directly from the Palmer PDI09 or miked amp, using the Boss TU-3 as signal switch. I can choose from either two signal out, or just to the Palmer. It doesn´t really matter as you anyway need to set the input source at the DAW (either channel 1 or 2 from the Steinberg interface), but bypassing the amp allows for silent recording if needed. The Palmer by the way outperforms the Blackstar emulated output and any plugin based speaker emulator I´ve tried. Wah is not included in the drawing, as this is only connected on special occasions.
Note: I do not have any endorsement deals with the above brands or manufacturers. If you believe there is a mutual benefit for an endorsement, please contact me at ola(dot)lofven(at)arbi(dot)se